Look what we've got for you!
Promoting library collections
Schlagwörter:
Bibliotheksbestand, Bestandsmanagement, Bestandsbewerbung, Marketing, Universitäts- und Landesbibliothek Münster
Abstract
Bibliothekar*innen verbringen viel Zeit damit, sich zu überlegen, welche Medien sie für ihre Bibliothek kaufen sollten, um den Bedürfnissen ihrer Nutzer*innen am besten entsprechen zu können. Was aber passiert eigentlich, nachdem es ein Buch oder eine Datenbank ins (virtuelle) Regal geschafft hat? Wie erfahren die Nutzer*innen von Neuerwerbungen oder anderen interessanten Beständen? Dieser Artikel sammelt ausgewählte Bestandsbewerbungsaktivitäten verschiedener wissenschaftlicher Bibliotheken, die sich zur Nachnutzung eignen könnten.
Vorgehen: Wir werten die Websites und, so vorhanden, die Web-2.0- bzw. Social-Media-Aktivitäten der Bibliotheken aus, die Mitglied in der IATUL sind. Dazu kommen Literatur- und Zufallsfunde.
Ergebnisse: Unsere Sammlung gibt einen Überblick über Verfahren zur Bestandsbewerbung in wissenschaftlichen Bibliotheken aus aller Welt, die wir anhand von Beispielen vorstellen, ergänzt um einen Bericht über einige jüngere Maßnahmen in der Bibliothek einer der Autor*innen.
Einschränkungen: Wir können nur die Aktivitäten derjenigen Bibliotheken auswerten, deren Website in Englisch, Deutsch, Französisch oder einer skandinavischen Sprache verfügbar ist. Außerdem nehmen wir nur die Perspektive der Bibliotheken ein – nicht aber die ihrer Nutzer*innen. Eine Analyse, die der Frage nachgeht, welche Erwartungen und welchen Informationsbedarf sie rund um Bibliotheksbestände haben, denen die Bibliotheken bislang noch nicht entsprechen können, wäre eine interessante Ergänzung zu unserer Studie.
Literaturhinweise
Armstrong, Alison M.; Dinkle, Lisa: The library liaison's training guide to collection management. Chicago 2020.
Arthur, Michael A.: Being Earnest with Collections. Building a Successful Marketing Program at The University of Alabama, in: Against the Grain 29 (3), 2017, pp. 75–77. Online: http://dx.doi.org/10.7771/2380-176X.7810.
Arthur, Michael A.: Developing a Collections Marketing Program at the University of Alabama. Presentation at the ALA Annual 2018: Technical Services Managers in Academic Libraries Interest Group, 23.6.2018. Online: http://ir.ua.edu/handle/123456789/3713.
Crawford, Scott; Syme, Fiona: Enhancing Collection Development with Big Data Analytics, in: Public Library Quarterly 37 (4), 2018, p. 387–393. Online: https://doi.org/10.1080/01616846.2018.1514922.
Dudenhoffer, Cynthia: Pin it! Pinterest as a library marketing and information literacy tool, in: College & Research Libraries News 73 (6), 2012, pp. 328–332. Online: https://doi.org/10.5860/crln.73.6.8775.
Eden, Bradford Lee: Marketing and outreach for the academic library. New approaches and initiatives, Lanham 2016.
Fought, Rick L.; Gahn, Paul; Mills, Yvonne: Promoting the Library Through the Collection Development Policy. A Case Study, in: Journal of Electronic Resources in Medical Libraries 11 (4), 2014, pp. 169–178. Online: https://doi.org/10.1080/15424065.2014.969031.
Georgy, Ursula; Schade, Frauke (ed.): Praxishandbuch Informationsmarketing. Konvergente Strategien, Methoden und Konzepte, Berlin; Boston 2018. Online: https://doi.org/10.1515/9783110539011.
Hermes, Jürgen: Chirpy Humanities, Public Humanities, 05.07.2021, https://publicdh.hypotheses.org/42, last accessed 09.04.2022.
Hicks, Sarah; White, Kristy; Behary, Rob: The Correlation of LibGuides to Print and Electronic Book Usage. A Method for Assessing LibGuide Usage, in: Journal of Web Librarianship 15 (1), 2021, pp. 1–17. Online: https://doi.org/10.1080/19322909.2021.1884927.
Hursh, Angela: Beginner's Guide to Promoting Your Collection. How to Get Started and Drive Circulation at Your Library, Super Library Marketing: Practical Tips and Ideas for Library Promotion, 25.10.2021, https://superlibrarymarketing.com/2021/10/25/beginnercollectionpromotion, last accessed 09.04.2022.
Jackson, Jennifer: Making the Most of Library Collections, While Multitasking: A Review of Best Practices for Marketing and Promoting Library Collections, in: Against the Grain 28 (4), 2016, pp. 38–40. Online: https://doi.org/10.7771/2380-176X.7458.
Jantz, Ronald C.: A vision for the future. New roles for academic librarians, in: Gilman, Todd (ed.): Academic librarianship today, Washington, DC 2017, pp. 223–235.
Kennedy, Marie R.; LaGuardia, Cheryl: Marketing your library's electronic resources. A how-to-do-it manual, 2nd ed., Chicago 2018.
McPhie, Joanne; Wannerton, Rob: Marketing our collections, in: SCONUL Focus 61, 2014, pp. 39–41. Online: https://www.sconul.ac.uk/page/focus-61, last accessed 09.04.2022.
Munro, Karen: At Least Seven Touches. One Academic Library's Marketing and Outreach Strategy for Graduate Professional Programs. in: Public Services Quarterly 13 (3), 2017, pp. 200–206. Online: https://doi.org/10.1080/15228959.2017.1328297.
Patel, Jashvant: Marketing Library Resources, Products and Services in University Library: A Case Study of Uka Tarsadia University, in: International Conference on Sustainable Librarianship: Reimagining and Reengineering Libraries, Baroda Gujarat India, 19–21 December 2019. Online: http://eprints.rclis.org/40937/, last accessed 09.04.2022.
Perrin, Joy M.; Winkler, Heidi; Daniel, Kaley; Barba, Shelley; Yang, Le: Know Your Crowd: A Case Study in Digital Collection Marketing, in: The Reference Librarian, 58 (3), 2017, pp. 190–201. Online: https://doi.org/10.1080/02763877.2016.1271758.
Polger, Mark Aaron: Library marketing basics, Lanham 2019.
Potter, Ned: The library marketing toolkit, London 2012.
Potter, Ned: Marketing Libraries Is like Marketing Mayonnaise, Library Journal, 18.04.2013. Online: http://www.libraryjournal.com/?detailStory=marketing-libraries-is-like-marketingmayonnaise, last accessed 09.04.2022.
Thomsett-Scott, Beth C: Marketing with social media. A LITA guide, Chicago 2014.
Vaaler, Alyson: Brantley, Steve: Using a blog and social media promotion as a collaborative community building marketing tool for library resources, in: Library Hi Tech News 33 (5), 2016, pp. 13–15. Online: https://doi.org/10.1108/LHTN-04-2016-0017.
Waller, Liz; Burg, Judy: Durham Residential Research Library. Presentation at the 48th LIBER Annual Conference Dublin 2019, 27.6.2019. Online: https://doi.org/10.5281/zenodo.3258200.
Westbrook, R. Niccole; Prilop, Valerie; German, Elizabeth M.: Nerd thrill your users: Collaborating with liaisons to create an appealing gateway to digital collections, in: Reference Services Review, 40 (3), 2012, pp. 469–479. Online: https://doi.org/10.1108/00907321211254706.
Wissel, Kathryn M.; DeLuca, Lisa: Telling the Story of a Collection with Visualizations: A Case Study, in: Collection Management 43 (4), 2018, pp. 265–275. Online: https://doi.org/10.1080/01462679.2018.1524319.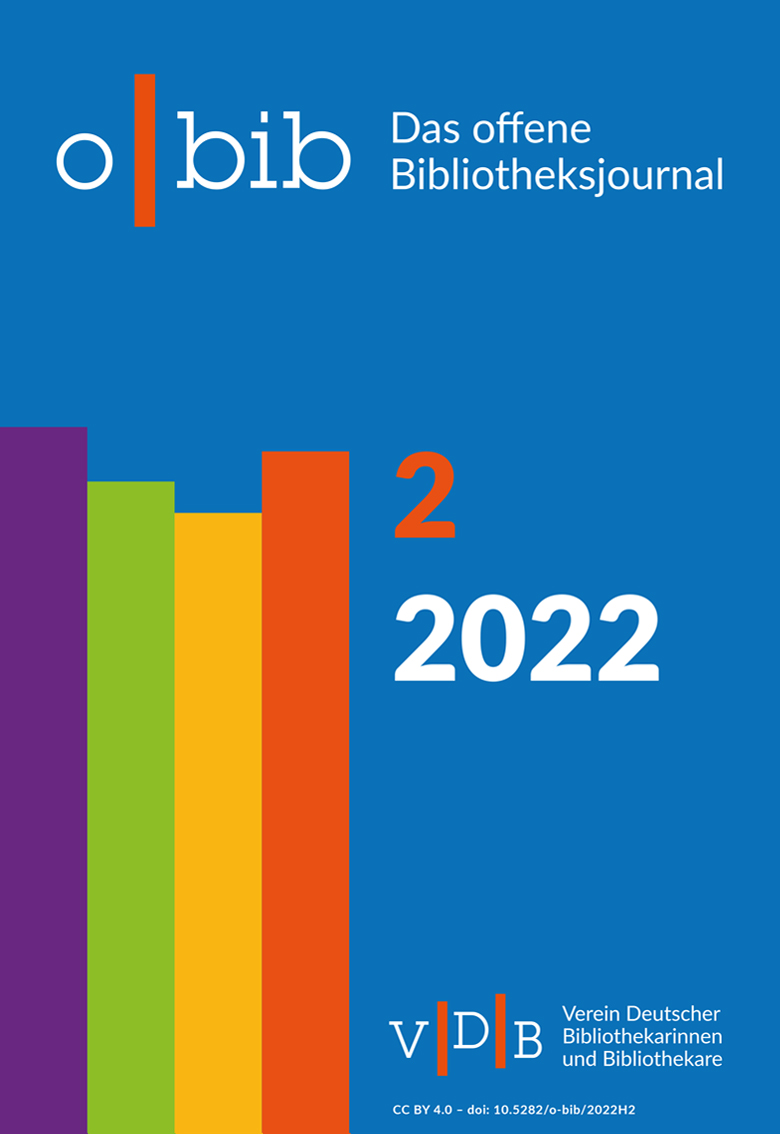 Zitationsvorschlag
Voß, V., & Hamrin, G. (2022). Look what we've got for you! Promoting library collections. O-Bib. Das Offene Bibliotheksjournal / Herausgeber VDB, 9(2), 1–25. https://doi.org/10.5282/o-bib/5782
Lizenz
Copyright (c) 2022 Viola Voß, Göran Hamrin
Dieses Werk steht unter der Lizenz Creative Commons Namensnennung 4.0 International.